It gives us great pleasure to say that this workshop finished with great success. We would like to thank everyone for their kind attendance.
Place : International Seminar Room 2 in the clock tower, Kyoto University
Time : September 26th, 14:00-18:30 (including a Get-Together)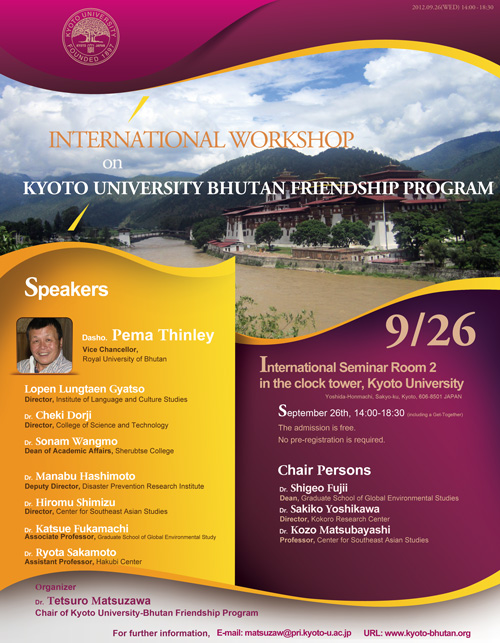 14:00-14:30
Dr. Tetsuro Matsuzawa (Head of KU-Bhutan, Primate Research Institute, Kyoto University)
Opening remarks: Kyoto University Bhutan Friendship Program (KU-Bhutan):
Introduction to the past history, present efforts, and future perspective
Messages from the Royal University of Bhutan
Chaired by Dr. Sakiko Yoshikawa (Director, Kokoro Research Center)

14:30-14:50
Dr. Cheki Dorji (Director, College of Science and Technology)
Bhutan, happiness is a place: introduction about geography, population, and economy in Bhutan

14:50-15:10
Dr. Sonam Wangmo (Dean of Academic Affairs, Sherubtse College)
Sustaining rural population and achieving GNH: introduction about settlement and livelihood, challenges of rural-urban migration in Bhutan

15:10-15:30
Lungtaen Gyatso (Director, Institute of Language and Culture Studies)
Cultural vitality and psychological well-being in Bhutan: introduction about history, language, and culture in Bhutan

15:30-15:50
Dasho (Dr). Pema Thinley (Vice Chancellor)
Bhutan and Gross National Happiness: educating for GNH

15:50-16:10 Break
Messages from Kyoto University
Chaired by Dr. Kozo Matsubayashi (Professor, Center for Southeast Asian Studies)

16:10-16:30
Dr. Manabu Hashimoto (Deputy Director, Disaster Prevention Research Institute)
Potential earthquake and geohazard in Bhutan

16:30-16:50
Dr. Hiromu Shimizu (Director, Center for Southeast Asian Studies)
From a peripheral contact zone: reforestation movement and globalization from Below in an Ifugao village in the Philippines, and a personal glance at Bhutan

16:50-17:10
Dr. Katsue Fukamachi (Associate Professor, Graduate School of Global Environmental Study)
Global Environmental Study: Future collaborations between RUB and GSGES of Kyoto University

17:10-17:30
Dr. Ryota Sakamoto (Assistant Professor, Hakubi Center/Center for Southeast Asian Studies)
Healthcare program for the elderly in Bhutan

17:30-17:40
Closing Remarks
Dr. Shigeo Fujii (Dean, Graduate School of Global Environmental Study)

17:40-18:30 Get-Together
Notes
: KU-Bhutan has already sent 9 parties of Kyoto University staffs and students to Bhutan since October 2010. All of the past participants are expected to join us welcoming the scholars of RUB.
The future participants of KU-Bhutan missions to Bhutan (10th and 11th parties are scheduled to be sent in 2012-2013) are requested to join us. The admission is free: No pre-registration is required.
For further information
, please contact:
Tetsuro Matsuzawa, Chair of KU-Bhutan program
e-mail: matsuzaw@pri.kyoto-u.ac.jp, phone: 81-568-63-0547