On May 15th 2012 three chimpanzees have been transferred to Kumamoto Sanctuary.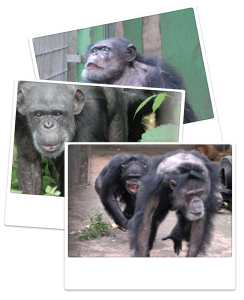 On May 15th 2012 three chimpanzees have been transferred from a Japanese pharmaceutical company to Kumamoto Sanctuary, Wildlife Research Center, Kyoto University.
Their names are: a female Candy and two males Musashi and Shoubou.
They were captured in the wild and then taken to Japan when they were only infants.
Ever since, now for 30 years they have lived in small indoor cages, isolated from each other until this transfer took place.

In their new home at Kumamoto Sanctuary, They can see the blue sky, step onto the ground and touch, laugh and even fight with their new group mates again three decades later.

Please join us through this report and see how they are gradually returning to be more natural, more social, like real chimpanzees' life enriched.
The prequel of this report is HERE(Click!). We hope you enjoy reading it.
2012.07.01 - 2012.07.31
The
49
th day
2012.07.02
Candy has been getting used to the outdoor enclosure and now can climb up to bed and platforms elevated above ground. When she became more familiar with her environment and was more relaxed she was encouraged to meet with Black, Sakura and Chiko. She met them all separately through mesh and in different rooms connected by walkways and tunnels.
She bit Black's finger gently. She touched Sakura's sexual skin and head. They all showed good intentions and interacted nicely.
The
50
th day
2012.07.03
Black is a 41 years old gentleman, who is much trusted by KS staff. He has been the alpha male taking the leadership of a females' group for a long period of time.

Black was let together with Candy in the outdoor enclosure today. At the moment she has spotted him, she embraced him. They walked hand in hand. They were side by side and ate sugarcanes together. They embraced tightly and kissed each other. They looked like two lovebirds! It may be Candy's first love; our hearts also beat faster.
During the same period of time Musashi met another chimpanzee.
Musashi and George were let together in the outdoor enclosure first, and then Shirou was let out to join them. This was the first time that Musashi and Shirou were together.

Musashi seemed to be scared of Shirou; he asked George for help.
George kissed Musashi. It made the socially inexperienced and insecure Musashi immediately acting confident. George's kiss meant reassurance and support to him. So Musashi, after George kissed him, he suddenly attacked Shirou as if Shirou was an "enemy" of both George and him. It made George angry and he began desperately chasing Musashi and stop him. After all, Shirou and George are friends!
George reacted like that for two reasons: #1: George and Shirou are friends. #2: Before Shirou was let in, Musashi kept chasing George off to get all scattered snacks, bananas and pineapples to himself. George withdrew himself then, but when his friend appeared he regained his confidence that blew the fuse. George chased Musashi up into the corner of the roof. By then Musashi was so scared, he screamed.

A bit later Shirou came and calmed Musashi down. Musashi embraced him again and again and asked for help because he was still very scared. Anyway, Musashi could have gained an additional friend.

Musashi was very scared of George, so he won't approach him again today. We plan to repair their relationship tomorrow. Sometimes delicious fruits can trigger a fight, so we better not offering them during introductions.
The
51
st day
2012.07.04
Candy and Black were let together again today. They were very friendly with each other. They walked hand in hand and groomed each other for a long time. She got angry with me(Dr. Udono) when I touched Black. She might be jealous. We are getting worried a little what she will do when they are together with another female chimpanzee.
In order to repair relationship between Musashi and George, we let them together again today. At first Musashi was scared of George so he won't approach him, however, at the moment he spotted Shirou through the mesh, Musashi asked for George's help and then played wrestle with him. Shirou was let in with them and Musashi played with him. It was a peaceful day today.
The
51
st,
52
nd days
2012.07.04 - 05
Candy and Black were let together again today. They were still friendly but less romantic than yesterday. They groomed each other and stayed apart. At the same time Candy met Sakura through the mesh wall. Sakura was friendly, but Candy began attacking at the moment she saw her. Candy's behavior kept Sakura away from the mesh wall. Sakura is sensitive, and we are afraid that she will be scared so much that she would not even go out into the outdoor enclosure any more. So we changed the plan, and Candy was let together first with Chiko and then next with Sakura on 6 July. They had some fights at the mesh but they also offered friendly gestures to one another.
The
57
th days
2012.07.10
Candy, Black and Chiko were let together in the outdoor enclosure today.
Chiko is a 22 years old female chimpanzee. However she had been raised by humans but she has worldly wisdom and can use many gestures properly.
We think It will be hard for Candy (who is in love with Black) to be friendly with other females. So Candy met Sakura through the mesh wall many times, however, Candy remained passive and did not offer any friendly gesture to Chiko. Candy's facial expression indicated that she was nervous whilst she kept glancing at Sakura again and again. Suddenly she punched her and pulled her leg. Black broke up the ladies' fight at once, separating them by a bluff display. He also slapped Candy. Black's intervention made Candy even more angry. She chased Chiko. Black stopped their fight again and flipped Candy onto her back. This was not at all acceptable for Candy! She screamed her head off and began chasing Black with anger. She chased him around the enclosure at least 5 or 6 times. Finally Black gave up and started screaming, as if he would say "Sorry, it was all my fault, please forgive me!" They embraced each other at once. She was exhausted and could not run any more. She laid flat on her back and had a hard time breathing. Candy and Chiko still kept away from each other. They will repair their relationship at another time.

Multi-male-multi-female groups are natural to chimpanzees' life style. Candy will relate with her mates and though sometimes she fights them, she will learn from these interactions. She will also learn about the hierarchy and her future position in her group.
The
64
th days
2012.07.17
Balantidium coli was detected in Musashi's feces. We needed to take measures against the infection. This is the reason why this report has been delayed. Sorry for the late posting! Though it is of low pathogenicity, slightly contagious, we want to continue preventing further infection. Balantadium coli has been eradicated from the KS chimpanzee colony 28 years ago and we kept them free of this protozoa ever since. Since the protozoan was detected we have not let Musashi together with any other chimpanzee to prevent additional infection. We performed scatoscopy several times for every chimpanzee who had contact with Musashi. Fortunately, all results are negative. We have administered proper doses of medicine to Musashi and will keep him under strict surveillance over time. Musashi, while suddenly separated from his conspecifics, can safely relax a bit and get well. He might be tired of getting nervous daily in his new life.

The
65
th days
2012.07.18
Candy was let together with other chimpanzees again on July 18th.
An incident happened today. We had opened the door between them too widely.
Chiko jumped into the outdoor enclosure and surprised Candy. They had a fight. Black took the mediator role, so they got calm.
Candy and Chiko quickly improved their relationship after the fight. They kept following one another calmly and inspected each other's rump. They were much more relaxed afterwards.
The
66
th days
2012.07.19
The
67
th days
2012.07.20
The
69
th days
2012.07.22
When Candy met Chiko through the mesh wall, Candy got closer to Chiko but Chiko didn't. When they were let together they have started a fight. Black mediated between them. Black was clearly trying to make peace between the females but he was more supportive to Chiko due to her swollen sexual skin. After a while Candy moved her face closer and closer to Chiko's chest panting, thus initiating reconciliation.
The
70
th days
2012.07.23
Candy didn't get closer to Chiko. Yesterday's incident might have affected Candy's behavior.
The
72
nd days
2012.07.25
Sakura's sexual skin got bigger. Her mood got better with her swelling growing and made her good-humored. So, she was let together with Candy and Black. They touched each other when they met at the mesh wall. Shortly, they were let together in the outdoor enclosure. They kept following one another and soon embraced calmly. From that point on they got along well.
The
76
-
78
th days
2012.07.29-31
Candy's sexual skin became swollen. This happened for the first time since she came to KS. When she and Black was together on 29th July, she accepted his offer. She presented her rump to Black. He mounted her. This was a nice surprise to us. She could accept a male while behaving normal, even after 30 years of total isolation from conspecifics.
English text: Michael Seres, based on original Japanese by Toshifumi Udono and Migaku Teramoto.
Tweet