(Updated on May 2016)
Weeks have now passed since the main quake occurred. Even though the aftershocks continue, the KS chimpanzees and bonobos are returning, little by little, to their daily life of play, laughter and even small fights between friends.
(Updated on September 2016)
Sadly, we must report that aftershocks from the initial earthquake in Kumamoto continue to be felt, albeit at successively decreasing magnitudes. On August 31 another earthquake of >5
*
magnitude occurred (
*
yet to be confirmed as magnitude 5.2; revised from earlier estimates of 4.9). Unfortunately, this caused water leaks at our facilities. We can only hope and pray that no further damage will be caused.
We look forward, with hope, to a day that will resound with the laughter of chimps and bonobos, when things will return to normal for every other living creature, including humans.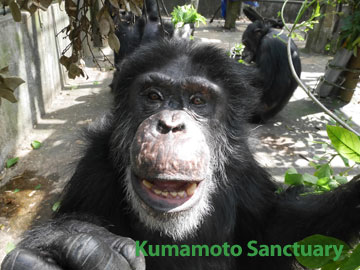 Photo 2 (Taken on April 30, 2016)